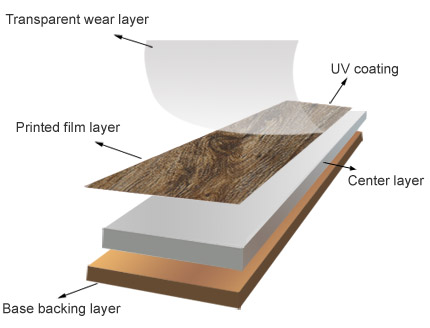 Paramount Luxury Vinyl Tiles are produced from the highest quality materials. Our state of the art manufacturing process is engineered to provide unsurpassed durability and aesthetics. Paramount's plank and tile products are produced with a strong foundation, covered with eye perfect, realistic graphics, and finished with a UV cured wear layer for ultimate durability.
Base layer: Our compact, sturdy, yet flexible, sound absorbing vinyl backing allows for ease of installation and resilience.
Center layer: The tile's core, providing strength and stability. Photographic film: Our HD print film provides explicit detail and realism.
Wear layer: 20-40 mil embossed wear layer for performance in commercial environments.
Polyurethane coating: UV cured polyurethane finish that allows for low maintenance and eliminates the use of harsh environmental and IAQ impacting cleaning chemicals.
Our Tile Specs
Overall Thickness:
2.5mm, 3.0mm and 5.0mm
Wear-Layer Thickness:
20mil (0.5mm) Standard Stock
12mil (0.3mm), 28mil (0.7mm), 40mil (1.0mm) Special Order
Glue-Down Plank Sizes:
4″ x 36″
6″ x 36″
7″ x 48″
9″ x 48″
Loose-Lay Plank Sizes:
18″ x 36″
9″ x 48″
Paramount LVT Loose-Lay series & Click Series are innovative formats of luxury vinyl flooring that's both quick and easy to install. These options have been tried and tested in several markets worldwide, proving themselves to be ideal flooring systems.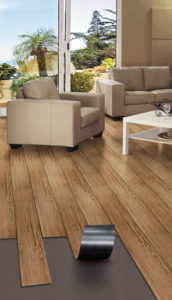 Paramount's Loose-Lay ser ies is a floating floor system that is designed to minimize sub floor preparation, and installation costs. With its patented Grip Technology, Loose-Lay Luxury Vinyl Tiles require almost no adhesive and minimal floor prep. It is suitable for raised access floors, easy and economical to repair, possible to install over most existing hard floors and requires little or no adhesive in most installations. This easy to install option is the premier choice for property management companies and nursing homes. Loose-Lay series is available in the identical assortment of colors and styles as traditional dry back (glue down) luxury vinyl tiles.